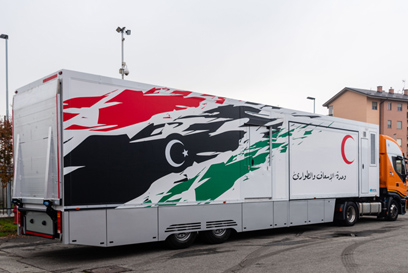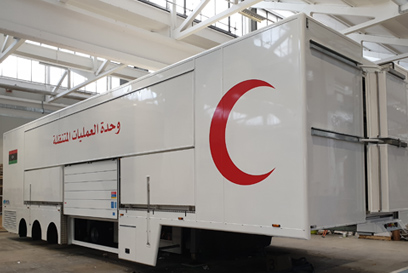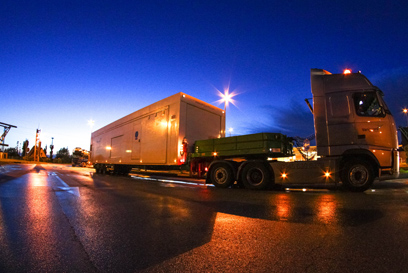 The art of knowing how to perform complex works combined with the excellent experience gained with prefabricated construction systems have allowed us to begin working with an English company that has been dealing with the rental of mobile structures for years in the United Kingdom and which was looking for a partner capable of developing new products to widen the challenge with innovative products and also conquer markets in other European countries.
Thus, in 2011, a first cooperation phase began that included restructuring some existing units and designing new models able to meet the needs and regulations of various countries.
These are large expandable modules capable of providing surgical services that can be used by hospitals in cases of increased production capacity, expansion works and emergencies. The technology used is of a high standard and, once mastery of the processes had been acquired, the company made investments by setting up a production space of about 5000 square metres near the Turin office capable of also taking on large projects.
From here, we also started to design and develop simpler solutions both on wheels and inside prefabricated modules. Interaction with doctors and trips made to emerging countries highlighted the potential of these mobile solutions. In collaboration with the Polytechnic of Milan, an initial project was defined which, when it reached maturity, blossomed into the project that was called "Sanità Sostenibile" ("Sustainable Health").
A solution that was presented at the UN building in New York, during an event including excellent Italian products in various sectors, providing an opportunity to make the product and service known to various representatives of countries, including developing countries.
The skills gained in the creation of solutions for the Healthcare sector and the constant search for new solutions has led the Group to broaden its horizons in different areas of application and to invest in the Motorsport sector, achieving its first successes in setting up complex solutions, such as Motorhomes and Hospitality and preparing simpler means of transport like that for tyres.
thousand
bank offices built
thousand mq
of carpentry work